NALC Member App
National Association of Letter Carriers
An app for members of the National Association of Letter Carriers. Includes:

1. Workplace resources, including the National Agreement, JCAM, MRS, CCA resources

2. Interactive Non-Scheduled Days calendar

3. Legislative tools, including bill tracker, individualized congressional representatives and PAC information

4. Instantaneous NALC news with personalized push notifications and social media access

5. Much more
Brothers and Sisters,
It is time for you to do your annual review of your disciplinary file (look at your e-OPF on Lite Blue).  If there is outdated discipline that needs to be thrown out, send a letter to Labor Relations along with a copy of the grievance settlement(s).  A sample letter is attached.  See Article 16.10 of the contract below:
Section 10. Employee Discipline Records
The records of a disciplinary action against an employee shall not be
considered in any subsequent disciplinary action if there has been no
disciplinary action initiated against the employee for a period of two
years.
Upon the employee's written request, any disciplinary notice or decision
letter will be removed from the employee's official personnel
folder after two years if there has been no disciplinary action initiated
against the employee in that two-year period.
(Additional discipline procedure provisions regarding City Carrier
Assistant Employees are found in Appendix B.).
The purpose of Article 16.10 is to protect employees from having their
past records considered when they have shown over a two-year period
that they performed their job without incurring any further disciplinary
action.
The Step 4 settlement H4N-5G-D 7167, January 5, 1989 (M-00889),
provides the following:
A notice of discipline which is subsequently fully rescinded, whether
by settlement, arbitration award, or independent management action,
shall be deemed not to have been "initiated" for purposes of Article
16, Section 10, and may not be cited or considered in any subsequent
disciplinary action.
Welcome, CCAs!
Career-track City Carrier Assistants

(CCAs) who have questions about pay, workload, relative standing and more should download the free NALC City Carrier Assistant Rights & Benefits booklet. This 12-page PDF also discusses uniforms, annual and sick leave, rights under the NALC-USPS National Agreement, health insurance, opting and hold-downs, and the various contract memorandums of understanding (MOUs) that deal specifically with CCAs. Click here to download the booklet (PDF, 1 MB).
From The National Association of Letter Carriers:
New 'Guide to Route Inspections' now available: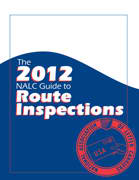 The 2012 NALC Guide to Route Inspections was created to assist shop stewards and branch officers in identifying contractual violations that take place during management's unilateral six-day route counts and inspections / adjustments, and with filing successful grievances on those violations. The sections in this guide take you through the inspection in chronological order and provide an easy reference to various provisions and related national settlements that govern route inspections. There is also a section with detailed descriptions and advice on how to read the various forms, reports and screens used during the route count and inspection process. Once you learn how to read one of our examples, you will be able to understand every one of the same type of form, report, or screen you will ever see. Click here to download the guide
New PS Form 3971
Revision has new look and expanded recording capability
A revised PS Form 3971, Request for or Notification of Absence — with a new look and functionality — is now available.
The revised form provides more space for requests and designation of protected leave under the Family and Medical Leave Act (FMLA).
The front of the form contains an expanded Remarks section and provides more specific instructions regarding FMLA designation.
The back of the 3971 includes assistance to help employees determine whether the request is a potential FMLA-protected absence. There's also a space to enter an FMLA case number to make sure the requested leave is associated with a previously approved or designation-pending FMLA case.
The form is available on Blue. It also can be ordered from the Topeka Fulfillment Center through USPS eBuy2 system under the MDC eBuy2 catalog. The National Stock Number (NSN) is 7530-02-000-9136.
The form also can be ordered using Touch Tone Order Entry (TTOE) at 800-273-1509 by those who have a 10-digit-access code or call 800-332-0317 to register for TTOE.
Current forms, dated March 2008 or earlier, should be destroyed.
Download New 3971 (PDF)
The Employees' Compensation Operations and Management Portal (ECOMP) is the newest on-line tool created by the Department of Labor Office of Worker's Compensation Programs (OWCP) to assist with claims processing and tracking.
The system permits claimants, representatives, employing agency staff and medical providers to upload documents directly into existing OWCP files through the internet. ECOMP enables Claims Examiners (CEs) to view the new information within four hours of submission.
Registration is not required to upload documents. Claimants need only provide a case number, their last name, date of birth and the date of injury to access the user-friendly system. As an added security measure, these four identifiers must precisely match the existing file information. Users who experience difficulty accessing a claim will have to contact the respective OWCP District Office (DO) to acquire the necessary data.
Multiple documents submitted through ECOMP must be uploaded individually, never as a combined document. Users will need to categorize each document as Medical or Incoming. The Nurse and Rehab categories are reserved for nurses and rehabilitation counselors working for OWCP's Nurse Intervention or Vocational Rehabilitation programs. The Medical category is used for all medical documentation such as test results, narratives, physician notes, forms CA-20 and OWCP 5, work tolerance limitations and functional capacity evaluations.
The Incoming category should be selected for documents that do not fit the other three more specific categories, such as job offers, elections of benefits or even witness statements. The Incoming category can also be used to pose questions to CEs; responses, however, will be provided by mail.
Users will not be penalized for misidentifying documentation. When the upload process is finished, a Document Control Number (DCN) will be issued as proof of submission and for tracking purposes. To obtain any additional information pertaining to document disposition, the designated DO must be contacted. CEs will not need the DCN to locate documents.
ECOMP does have some limitations that should be understood before attempting to use the portal. Adobe Flash Player (at least version 9) is required to use ECOMP. Only .jpg, .jpeg, .gif, .png, .tif, .txt, .rtf, .pdf, .doc, and .docx documents up to 5mb will be accepted. The size limitation accommodates most documents related to the claims process. OWCP offers a few tips on its ECOMP FAQ page to help reduce the size of larger documents.
Despite the initiation of ECOMP, there are a few documents that still must be mailed to a specific OWCP address or submitted through the employing agency. Form CA-16, medical bills, reimbursement claims and medical authorization requests should continue to be submitted through the ACS Web portal, http://owcp.dol.acs-inc.com or by mail to the
 U.S. Department of Labor, DFEC, Central Mailroom, PO Box 8300, London, KY 40742-8300.
Requests for a hearing or review of the written record should be sent by mail to the
Branch of Hearings and Review, OWCP, P.O. Box 37117, Washington, DC 20210.
 Employees' Compensation Appeals Board (ECAB) appeals should be sent to the
Employees' Compensation Appeals Board, Room S-5220, 200 Constitution Avenue, NW,
Washington, DC 20210.
The claim number should be listed on every page regardless of the submission method.
As a result of a new FECA regulation that requires all federal employers, including the USPS, to offer e-filing capabilities to their employees, postal workers should anticipate having the option of submitting new injury and disease claims, and claims for compensation and scheduled awards through a web-based portal, rather than going through the agency by Dec. 31, 2012.
To learn more visit the ECOMP Web site, https://www.ecomp.dol.gov/.