PLEASE GOOGLE AND SHARE THIS NEWS WITH YOUR FRIENDS AND FAMILIES
THE WORKING MANS PRESIDENT -AND ALWAYS SUPPORTIVE OF THE POSTAL SERVICE!!!!!!!!!!!!!
Bernie Sanders is running for president
By Dan Merica, CNN
Updated 5:15 PM ET, Thu April 30, 2015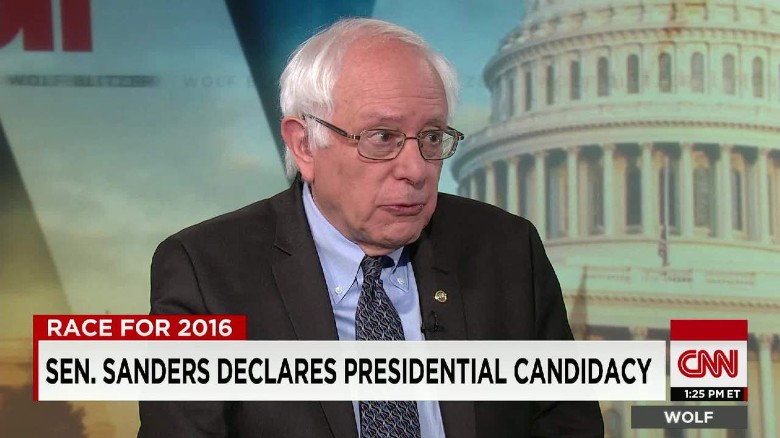 Sen. Sanders declares presidential candidacy 07:39
Watch CNN's Wolf Blitzer interview Sen. Bernie Sanders on "Wolf" on Thursday at 1 p.m. EDT.
Washington (CNN)Bernie Sanders is in.
The independent Vermont senator railed against the political machine — blasting "ugly 30-second ads," billionaire big-money donors and other "soap opera aspects of modern campaigns" — in a press conference kicking off his candidacy outside the Capitol on Thursday.
"I think the American people are tired of that," Sanders said.
He said he is running to thwart trade deals like the 12-country Trans-Pacific Partnership and to overhaul business tax rules so corporations operating in the United States cannot shelter their money overseas.
"Their responsibilities are not to shift jobs to China, their responsibility is not to avoid paying federal taxes," he said.
Sanders first announced his run in an email to supporters and media sent just after midnight early Thursday morning.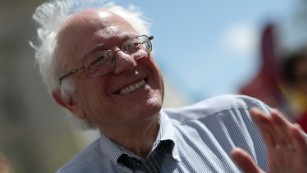 Bernie Sanders' political career 12 photos
EXPAND GALLERY
"After a year of travel, discussion and dialogue, I have decided to be a candidate for the Democratic nomination for president," he wrote in the email, highlighting economic inequality, climate change and the Citizens United Supreme Court decisions as key issues spurring him to run.
Sanders first confirmed to the Associated Press in a story published Wednesday that he plans to run for the Democrats' 2016 presidential nomination.
"People should not underestimate me," Sanders told The Associated Press. "I've run outside of the two-party system, defeating Democrats and Republicans, taking on big-money candidates and, you know, I think the message that has resonated in Vermont is a message that can resonate all over this country."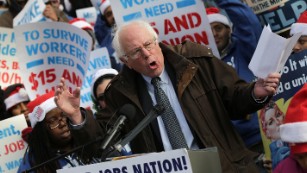 Who is Bernie Sanders? 01:32
PLAY VIDEO
"Sanders is well-recognized for his principled leadership and has consistently stood up for middle class families," DNC Chairwoman Debbie Wasserman Schultz said in the statement. "Throughout his service in the U.S. House and Senate, Bernie Sanders has clearly demonstrated his commitment to the values we all share as members of the Democratic Party."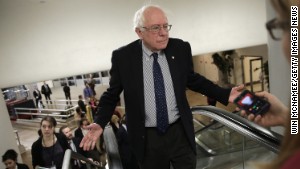 Here comes Bernie Sanders 01:23
PLAY VIDEO
READ: The Democratic presidential nominee that doesn't have to be a registered Democrat
Sanders is an outspoken critic of Wall Street banks and the outsized influence of money in politics and is a supporter of universal health care. He regularly talks about the need to rebuild the middle class and raise taxes on America's highest earners.
"At a time of massive wealth and income inequality, we need a progressive tax system in this country which is based on ability to pay," Sanders said last month in Washington. "It is not acceptable that a number of major profitable corporations have paid zero in federal income taxes in recent years, and that millionaire hedge fund managers often enjoy an effective tax rate which is lower than the truck drivers or nurses."
In interviews before his campaign announcement, Sanders said trade, income inequality and health care would be key tenants of his run. But despite having vocal liberal supporters on these issues, Sanders is a dark horse candidate and has acknowledged that his run will be uphill. A CNN/ORC poll in March found that Sanders has the support of only 3% of Democratic voters.
Born in Brooklyn, New York, Sanders moved to Vermont after graduating from the University of Chicago. His first successful run for office came in 1981 when he was elected Burlington's mayor by a mere 10 votes. He was elected as Vermont's at-large member of Congress in 1990 and jumped to the Senate in 2007. Sanders is the longest-serving independent in congressional history.
Sanders does not have the personality of a typical politician. He is sometimes gruff and blunt, dispensing with social niceties and usually getting right to the point. He has come to be known as much for his fly-away hair as his passionate speeches in the Senate -- and has bluntly lamented the way political journalism in the United States focuses on personality.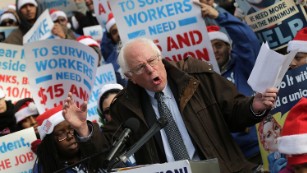 Sen. Sanders talks trade deals 01:12
PLAY VIDEO
READ: Sanders watches as the Left looks to Warren
"I think this is not about personality," Sanders told CNN earlier this year, raising his Vermonter-by-way-of-New York voice. "I am not a singer, I am not a dancer, I am not an entertainer."
He also starts with a small campaign infrastructure, largely the remnants of his past Senate runs, and is primarily being advised by Tad Devine, a Democratic political consultant who worked on the presidential campaign for Al Gore in 2000 and John Kerry in 2004. At an event this month in New Hampshire where Sanders leaned heavily into a presidential bid, the signs outside the house party touted his 2012 Senate re-election bid.
From the outset of his campaign, it appears money will be Sanders' biggest issue. The senator has regularly conceded in the last month that he would not be able to raise near the money Clinton will bring in.
"To run a credible campaign in this day and age, you do need a whole lot of money," Sanders said. "Whether the magic number is $200 million, it is $150 million, it is a lot of money, but even with that, you would be enormously outspent by the Koch Brother candidates and the other candidates who will likely spend, in the final analysis, over $1 billion, if not two."
"Obviously one would hope one would have as much support as possible from all walks of life," Sanders said 
Potential 2016 presidential candidates 19 photos
EXPAND GALLERY
Anna Galland, executive director of MoveOn.org Civic Action, even mentioned Warren in touting Sanders' jump into the race.
"MoveOn members welcome Sen. Bernie Sanders to the presidential race," said Galland. "The Democratic Party is made stronger by each additional voice who enters the race and commits to being a strong advocate for everyday, hardworking Americans and not just the wealthy few. 
Sanders enters a race that has so far been dominated by Clinton, the former secretary of state and Democrats' prohibitive favorite for the nomination. For most of 2015, Sanders has been reticent to attack Clinton, but he recently has issued statements calling on her to change her policy positions.
NALC fights plant closures and consolidations: Momentum is building for a one-year moratorium on the closure and consolidation of any additional USPS processing facilities. As half the Senate weighs in, NALC is backing a similar effort in the House. More
Customer, employee rights when USPS solicits customers to change the mode of mail delivery: Updated: NALC is aware of an effort by the Postal Service in different parts of the country to convince customers to agree to change their mode of delivery to cluster box or centralized delivery. Click here for the latest information that details the rights of both postal customers and letter carriers.
Stop Staples: The NALC's Executive Council has voted to endorse the boycott of the Staples office supplies chain. "NALC stands with the growing list of unions and progressive allies who have joined in solidarity with our brothers and sisters in the APWU against outsourcing decent jobs," NALC President Fredric Rolando said. "The Postal Service should not undermine its own superb network by sub-contracting work to low-wage, low-skill workers at chain stores. It should embrace new revenue strategies and innovation to better serve the public." Click here to read more.
Plant closures
– Many of the plants scheduled for "consolidation" at the beginning of 2015 have been pushed back to July.  USPS expects to save $1+ B but with no projected business loss.
Oregon is pushing the Congressional delegation to demand meetings with the PMG.  At the Portland rally, which featured Sen Jeff Merkley, they held signs asking him to intervene with the PMG.  Portland is trying a City Council resolution to the PMG, Portland District and Congressional  delegation.  Eugene is lining up local mayors to meet with Congressional reps., asking them to intervene with the PMG.  
APWU national is asking local and state organizations to push the USPS to re-do AMP (feasibility) studies and community hearings, since much has changed in 3 years since they were done, esp. lower labor costs, ie. PSEs & MHAs and exploding parcel volume.  Best way to push USPS is to mobilize local Congressional delegations.  Also APWU encouraging locals to hold their own town halls on consolidation
Financials
– The USPS announced FY 2014 loss of $5.5 B but actual operating surplus of $1.4 B  (the paper loss due to pre-fund mandate and workers comp pre-funding).  Letter revenues are up (the USPS says it's temporary due to postage price  rise).  Parcel volume up 9%, a record.  Some will issue press releases, calling on the new PMG to do the right thing.
New PMG
– We can celebrate, claim victory in the resignation (retirement) of Patrick R. Donahoe.  His replacement, as of Feb. 1, Megan Brennan, was the chief operations VP so is expected to carry on the same policies.  Delivery standards are expected to change on Donahoe's watch (Jan. 5).  He says he is leaving before contract negotiations begin.  We should take advantage of the new regime to press again, harder for a plant closure moratorium.
Dark Delivery
– Portland NALC branch is debating a resolution to resist "Amazon Fresh" grocery deliveries (CCAs, 3 – 7am in the dark), or at least to enforce the LMOU which secures monetary remedies when carriers deliver in the dark, currently.  And to secure LMOU language guaranteeing high-powered headlamps and reflective clothing.  The branch president is opposed to resistance and activists are divided.  San Francisco continues the program with "volunteer" CCAs.
Parton homicide investigation: 9 arrests to date
April 10, 2014—On April 3, the U.S. Postal Inspection Service arrested Emmanuel Alphonse and Steven Toussaint. The two are accused of laundering money obtained from stolen identity tax refund fraud. These latest arrests bring the total number to nine for subjects charged in connection with the murder of South Florida Branch 1071 letter carrier Bruce Parton (right). Parton was a letter carrier at Miami's Norland Post Office in northern Miami-Dade County. A 30-year veteran, Parton was murdered on December 6, 2010, while delivering mail to condominiums on his route. Click here to read more.
Government Snooping Revelations Should Give The Postal Service
A Huge Opportunity
For all the talk about the failures of the USPS, the latest revelations about government eavesdropping on our emails and telephone calls should be a big commercial for the benefits of physical mail and package delivery. The Post Office is uniquely positioned to exploit the opportunity.
Of course, it would help if Congress stopped trying to put it out of business. For years now, politicos of a certain ideological bent have been going after government services in general, and those with significant union populations in particular. They've legislated that the USPS must fully fund its entire retirement obligation, which is something it has obligated no other Federal agency to do (and few corporate retirement programs are similarly front-loaded).
That fact aside, though, the USPS has been facing challenges from services that displace its business (email can effectively replace letters, magazine delivery, and junk mail) and competitors that often outdo it (FedEx FDX +1.07%, UPS). Many have suggested that its size and structure preclude it from operating fast enough, let alone innovating.
The surveillance issue is a gift from the Gods of Marketing, because it could allow the USPS to reposition its presumed weakeness as unique strengths and benefits. Here's how:
Security. Short of being opened or read by some secret X-Ray machine, snailmail letters are far more secure than emails or phone calls. Correspondence can be certified as received and insured along the way, though regular mail is just as safe from prying eyes. I'd make a big deal out of this, even innovating a version of regular service — call it SecureMail, or something — that provides additional qualities that ensure confidentiality. Heck, why not start selling invisible ink or Enigma-like code machines?
Pricing. Having the choice of using a giant, lumbering public utility masquerading as a service provider means that the USPS helps keep market prices in check and, more so, can't arbitrarily raise them. Just think about how ISPs have tinkering with different rates for different users. There's a populism message here that's very powerful and compelling; the USPS was invented early-on in our country's history because our Founding Fathers saw the vital importance of a level playing-field on which commerce could be transacted. Where's this heritage in today's branding? Why isn't every expenditure on sending a letter or package via the USPS understood as an investment in perpetuating this important infrastructure?
Reliability. I know, I know, you can't depend on the Post Office like you can, say, FedEx. But that's not really true, especially these days (and anecdotal stories aside), and it certainly isn't the entire story. The USPS is required to deliver to any person in the U.S. regardless of location. Its competitors aren't. So why not make this point boldly, almost as a dare to the industry to step up and service the greater good of the country? Oh yeah, its competitors only have to make money. Sounds like a competitive position that can't be topped.
The privacy point is the most compelling positioning point, by far. The USPS should hit it bluntly and hard.
May 9, 2014—NALC President Fredric Rolando released a statement following today's release of the U.S. Postal Service's financial statement for the second quarter of Fiscal Year 2014. "The Postal Service today reported a quarterly operating profit of $261 million, which brings the operating profit for the first half of fiscal 2014 to more than $1 billion," he said. "Driving the quarterly performance were the 8 percent jump in package revenue and—in a turnaround—the 1.6 percent increase in letter revenue. These results reconfirm the steady improvement in the finances of the Postal Service." Click here to read more.
Convention coverage: The NALC's 69th Biennial Convention took place in Philadelphia July 21-25. Select videos from sessions are now available, as are Convention Chronicles covering the entire week plus Flickr photo albums covering proceedings, workshops, activities and more. Click here to read more.